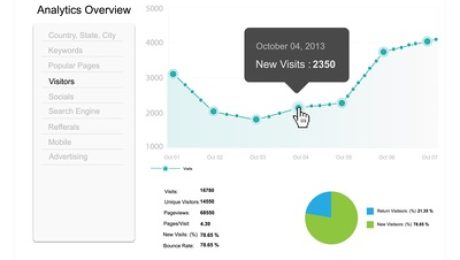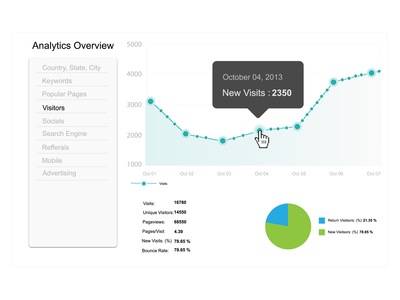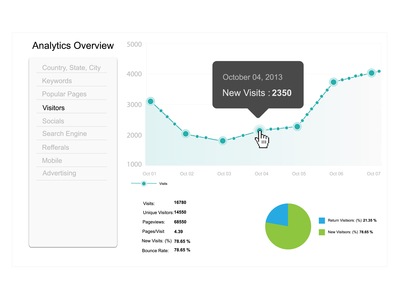 Wouldn't it be great if you could know almost everything there is to know about those nameless and faceless visitors that come on your website?
Wouldn't it be great if you could know exactly how people get to your site, what they type in the the search engines to find you or how many leads you get from Facebook and Twitter?
Wouldn't it be great if you could also know where they are from, what type of computer they are using, how many people access your site with mobile phones and how long they stay on your website?
Well, I have a good news for you, YOU CAN …. and it's entirely FREE. It's called Google Analytics.
What is Google Analytics?
What is it exactly?
Google Analytics (GA) is a service offered by Google that generates detailed statistics about a website's traffic and traffic sources and measures conversions and sales. 
Google Analytics is one of those things that is too good to be true. I still don't understand how Google can give away something this amazing for free, is still astonishes me. Of course, they get a ton of data from your website in return but it still is an amazing offer.
Should you get it for you website? Absolutely, it is free and all you need is a Gmail account to get started. However, once you get started, it can be quite overwhelming. There is A LOT of information and you need to understand what it is and how to benefit from it. This is what this article is all about.
The most important metrics for your business
Just like any business or profession, there are tips and signals that you should analyze to determine if things are going in the right direction with your website.
We've have come up with ten vital Google Analytics metrics for you as business owners to help you get started.
1. Visits


This is probably the first and most important statistic in Google Analytics. Aside from the ego boost to get a lot of visitors, every business is interested in knowing the number of visitors their website is getting, because these are the main ingredient for potential buyers, followers or customers.
There are two main types of visitors that you should take into consideration: the returning visitors and new visitors. Even without explanation, it is pretty self explanatory. Google uses cookies on your visitors' computers to determine if they have been to your website before or not.
The percentage of new visitor vs returning visitor can vary a lot between websites. If, for example, you have an informational website with very precise information (such as the one in the picture above) you will get a low number of returning visitors because they just go to your website to look for a specific information and then leave never to come back again. However, if you sell products or have an information website with fresh new content regularly, you will start to develop a following and people will come back to get more of the same.
If your new visitors find your products, services or information interesting and engaging they are more likely to come back and this is key to sustaining a business online. Most people won't buy on their first visit and the higher the percentage or returning visitor, the better.
Tip: To get more visitors you can optimize your site for search engine optimization, start PPC campaigns, build a mailing list or attract visitors through Social Media.
2. Visitors Average Pageviews/Visit


The average pageviews per visit is an important metric that let you know how engaging your website is. The more page views your website is getting the more likely it means that the content posted on your site is engaging enough to push your visitors to the other pages of your website.
For a business page with only a few pages such as About, Services, Prices and Contact, any score higher than 2 is good because it means that visitors are not only coming to your site to leave right away and that they take the time to go through your site, which gives you more opportunity to convert them.
However, if you have seventy pages on your site and that average pageviews/visit is at 2.2, then Houston, you have a problem.
Tip: To increase the pageviews/visit, you can show your most popular posts in the sidebar or at the bottom of your article, you can add internal links to your own website inside your articles.
3. Average Visit Duration
This statistic shows the average time each visitor is staying on your website. This metric is quite complementary to the average pageviews/visit.
The first interpretation of this stat that you would go for is that the longer the duration the better, this is to some extent true. The first step that you should take when taking into consideration this statistic is the type of content you have on the page. For instance, if you have five pages and they comprise fifteen minute videos on each page and majority of your visitors are not staying any more than three minutes, then this could mean that they are not following through to the end of your content and are likely missing out on various call to actions which could in turn affect your conversion rates.
4. Bounce Rate
The bounce rate shows the number of visitors that came to your website but left right away without looking at any other pages on your site, hence the name bounce rate. You obviously want to have a bounce rate as low as possible to try to convert your visitors.
It could mean a lot of different things, either:
The visitors for a specific information and they found it in the page they got to.
The design or presentation of your website didn't appeal to the visitors and they are not interested in reading what else you have to say.
You didn't display the other pages on your site properly.
Tip: Same as for the average pageviews/visit, you can try to display your most popular posts in the sidebar or at the bottom of your article, you can add internal links to your own website inside your articles or you might also need to redesign or refresh your website.
5. Traffic Sources
These statistics are presented based on four source segments of traffic; search engines, referring sites, direct traffic and others.
Search Engines – this covers all traffic tapped from search engines like Google, Yahoo, Bing and many others. This is possible if your website is appearing in the search results of the search engines.
Referring Sites – this is traffic brought due to links found on other websites other than yours.
Direct Traffic – this is traffic brought in as a result of direct keying in or your website name (URL) on the address bar.
These analytics help you note where you need to put in more effort. For instance, if the search engines are providing you with the best traffic, then work on that. Different sources work for different businesses. As such it's very advisable that you stick to what works for you.
6. Keyword
This shows which keyword the visitor typed into to Google and eventually led them to your site. This is very essential in the sense that it will highlight to you which keyword is bringing you your main traffic. For instance, you as a website owner may have four keywords you are targeting and it only happens that your secondary keywords are the ones bringing you the best traffic compared to your main keyword. This could be as a result of less or competition or relevance, then this should add to the reasons why you should focus on those keywords compared to your main one.
7. Landing Page
Your promotion strategy often determines what your most visited landing page will be. Sometimes, the page which you may have taken for granted or paid less attention to ends up getting the most traffic. This could be due to reasons such as social shares, content and keywords among others. Google Analytics has a list of all pages of your site and shows the source of the traffic, number of visits and the bounce rate.
The source of traffic, which your best pages is getting will enable to concentrate on that strategy to help boost your traffic to similar pages and the bounce rate will quickly signal that there is something that your visitors do not like about your pages. Try to get someone independent, a friend or someone you meet in cafe to give you clear minded critique of your best landing pages.
8. Location
If you run a website centered on a particular area, then this is a statistic worth taking note. For instance, you are promoting a weight loss product specifically aimed at the English market, then you will probably be very happy to see more visitors from England. You can also increase your traffic by putting in some local promotion like magazines or classified adverts. This stat will in effect, help you direct your efforts.
9. In-Page Analytics
These analytics focus on the click through rate of the links on your website. It is based on the number of visits you get on the page and the number of clicks you are getting. This is also known as conversion. This is probably one of the main reason why most businesses online exist; this is so because every click entails an action. These statistics will help you determine how well your page is converting. If your bounce rate on the page is low and average duration per visit is good, then you may consider twitching your call to actions.
10. Mobile
Lastly, the mobiles section of the analytics. This shows the number of visitors that used mobile devices to visit your site. If this number is high or is reasonable, you may want to consider creating a mobile version of your website. This will help increase the ease of navigation for your mobile visitors and their conversion as well. With the improvement in security and sophistication in mobile technology, it is now easier to transact via mobile devices, hence these visitors are also potential customers.
All in all, Google Analytics are a plus to your online business only if you use them to your advantage. The ten points discussed are just some of the major benefits of Google Analytics metrics. If you haven't started using them, then start today by taking action on what you have learned.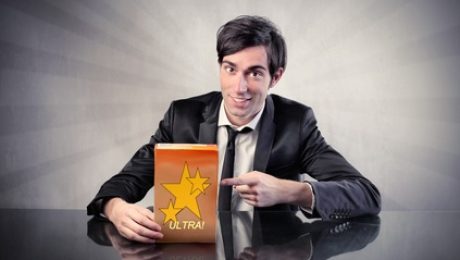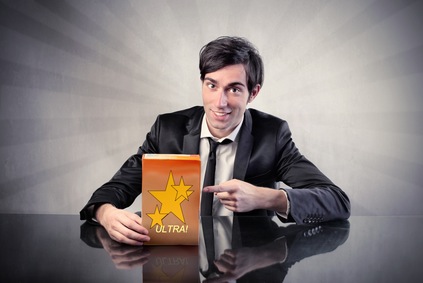 If you have a website, most probably that your main goal is to get as many visitors as you can and to convert them into customers and clients. This is where content marketing can help you.
For starters, content marketing refers to the process that involves companies creating quality content with the aim of engaging and educating customers via a myriad of channels online.
What I'm doing now by writing this article is considered as content marketing … and it seems to be working because you are reading this!
There are plenty of ways in which content marketing can help your business to generate leads online. Generally, content can be marketed online in form of articles, reports, how to guides, webinars, podcasts, white papers, slide presentations, videos etc. More importantly, content marketing doesn't just happen in a vacuum-it is rendered through a multitude or different strategies.
Get leads from Content Marketing for businesses
Here are 10 ways to get leads from your content marketing.
1. Blogging
Blogging is one of the easiest way in which marketers can use to net quality leads for their business. Blogging can be described as platform where a company products or services can be promoted using a few strokes of the pen. By penning quality articles on your blog regularly, you can be able attract a legion of followers who in turn can become your customers. So long as one provides solutions through well thought-out blog posts then followers become leads who can easily be converted into sales or any other purpose targeted by the businesses
2. Social media
Social media provides a succinct avenue for dialogue between brands and customers. By crafting and promoting quality and engaging content, social media can help business generate more targeted leads. Social media allows content of different formats to be shared with much ease. Some of the content formats that can be shared on social media include; video, articles, images, podcasts etc. Social media enables content marketers to reach millions of people through the power of sharing. However, content marketing on social media needs to be engaging as well as informative to customers- if it is to be successful.
3. Search engine optimization
Search engine optimization involves all attempts to increase the visibility of a given website in search engine results. Content marketing can be used to increase the visibility of a website in search results. For instance, including targeted keywords in your website content or blog posts can help a website rank favorably in search results thus greatly increasing the chances of converting leads emanating from search engines. Additionally, content marketing strategies like article marketing also generates quality leads through backlinks usually included at the top of the page. If your website is dominates the search results then attracting quality leads is something that follows automatically
4. Search engine marketing
Search engine marketing involves using paid means to dominate search results. By crafting creative keyword related advertisements, marketers can be able to target web visitors arriving through search engines. With a vibrant content marketing strategy in place, you can create engaging ad copies that will generally generate more leads for your business. One doesn't need to spend a lot on keywords; all that is needed is little bit of creativity on your part.
5. Email newsletter
Content marketing can also be rendered through email newsletters to a great success. Through the use of email and particularly email newsletters one can be able attract qualified leads who can be converted easily. However, quality content is required if you want to attract qualified leads for your business. A well thought out email ad copy not only engages prospects but it also persuades them to take some action in the processes. Sending out regular email newsletters also ensures that you maintain all the people subscribed to your list; while at the same time encouraging new people to sign up.
6. Slideshare presentations
Content marketing can also be done via slideshare presentations online. PowerPoint presentations are not only engaging but are also very informative. Through the use of slides, marketers can promote their offers in a more concise manner and in the process generate leads for their businesses.
7. Video
Video is another effective medium used by marketers to capture qualified leads. Video is more engaging that images and text combined, meaning that marketers can create engaging video content that can attract leads or prospects. One of the leading platforms for videos is YouTube-you can create engaging content which you can then share on YouTube for people to watch. If people find your videos to be more engaging then they are likely to turn from leads into buying customers.
8. Forums
Forums are another platform where content marketing takes place. Forums are usually highly trafficked and busy and as such, content marketers ought to come up with quality content that can engage forum visitors more. People participating in forum are always on the look out for quality content that is not only engaging but informative. If you come across a party that understands the topics of discussion well on a forum, then people are likely going to trust you and follow you(become your fans) in the process. Out of all the people who comment on your forum posts, a percentage of that number will eventually qualify as leads who can easily be converted into sales.
9. Press release service
Content marketers also use web release services to unveil press releases or news about the company. Press releases provide the public with latest information about a company's product or services. Content marketers need to create engaging and informative press releases that will in the end convert prospects or leads. Additionally, press releases should be written in accordance to their correct format.
10. Images
Lastly, images can be used by content marketers to engage as well as educate prospects or leads. Through the use of images businesses can attract prospects who can in turn be converted into buying customers. For instance the use of infographics can be used to educate as well as persuade prospects or leads about a given offer.
Why you should use Content Marketing for you business
Content marketing requires a lot of strategizing if it is to convert leads into buying customers. While content marketing can be affected or rendered in number platforms as mentioned above-the most important thing to remember is that quality supersedes everything else. Quality content helps one to get the credibility they and in the process convert qualified leads into purchasing customers. If you are a content marketer looking to attract leads for your businesses then quality and creativity should be paramount in your plan.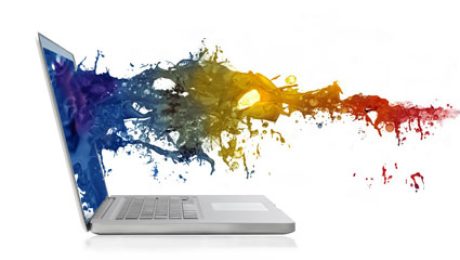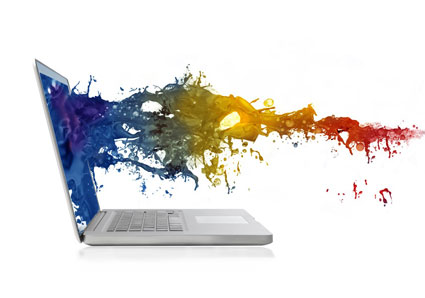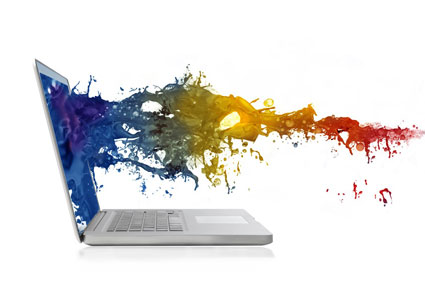 The most creative and innovative platform for the internet marketers is definitely the web designing and its tools.
Web designing provides you with new and better designs and trends every year. The latest trends in web design are analyzed by a number of designers that are used to attract traffic and it helps people to design and maintain the website in a much better way.
Properly used designing skills are important for making a high end and classy website.
Previously, there were a lot of additions to graphics and other designing tools and trends and in 2013 these things have improved even more. This blog post will let you get the latest trends that are being used in 2013 regarding web designing.
The latest trends in Web Design
As a matter of fact, the tools that were used from designing and development have been changed a lot. Now there are modern things that should be integrated in the web design so that you get the traffic and sticking to the changing trends is the only way of increasing the awareness of your brand. People prefer using the modern things and if you will not integrate such things, it will only damage you! Following is a list and brief description of the modern trends that are being used by modern graphic designers.
Large Sized Graphic Tabs and Buttons
Previously, only computers were used to visit websites and only a few people used mobile phones to surf internet. But now, a large volume of traffic comes from mobile users and that is the reason why larger buttons are important. Mobile phones have a smaller screen and that is why a website having smaller tabs will not attract the user to that extent. Mobile phones and tablets have become a great source of traffic to websites, therefore it should not be ignored and this modern thing should be catered well. If you have a modernly customized website, it will definitely help a lot of people who use internet only on their phones and tablets!
Societal Integration- even more grown in 2013
You must be familiar with social networking sites! In fact, not only familiar you must be using one or more social sites to be in touch with your friends and family. Social networking has become a very essential element of modern life and these can really help in deriving traffic. If you have not designed your website by keeping this thing in mind, you may get poor result. So, before doing anything, integrate social networks in your website. Modern consumer uses social networks and if you want that consumer to be aware with your product or service, you must get him through a social networking site!
Responsive Web Design
You are aware that PCs and laptops are not the only platforms where your website is being viewed. Mobile phones and tablets are becoming more evident and now you have a more challenging environment where your website should be designed to meet all the requirements and criteria. You should design the website in such a way so it opens perfectly everywhere, I mean the layout! The layout should be perfectly presented on larger and smaller resolutions. This art is responsive design and it is a modern requirement because there was not so much usage of mobile phones for internet browsing a few years back.
Scrolling
Scrolling is a very important thing and with the advent of modern things, it has become even more important. The kind of scrolling describes the whole layout of your website. It can be a vertical or horizontal scrolling. Most of the mobile phone devices do not perfectly supports horizontal scrolling. Therefore you should always go with a vertical scrolling and your menu should also be scrolled down as the user scrolls the page. This is a very small yet important thing that should be kept in mind while designing a web page for modern consumers. The year of 2013 is the year of vertical scrolling and another very important trend in this regard is interactive scrolling. Following is a brief description of parallax:
Parallax Scrolling
This is good to inform you that latest trends are capturing the market and parallax scrolling is one of them. Now user would be scrolling the web page in a more interactive way and graphics would be scrolled in the same direction but different speeds and frequencies will make it look different. It will cast a 3D effect however everything being two dimensional. It is a very important technique to grab the attention of users because people want something new and only those websites are viewed frequently that are innovative and possesses some extra things.
Background Attraction
The purpose of a well-designed website is to attract more people to gather more traffic. If you want to gather traffic that really sticks to your website for some time, you must add such things that are capable of grabbing the attention of user. One of the things that can really grab the attention of a user is background. The background display can be used to grab the attention unconsciously! If you have a larger image in background of your website, it will be attracting more people as compared to smaller backgrounds. Therefore, image selection is also very important in case of attracting modern traffic.
Retina Display Support
The world is modernizing and different companies are bringing a lot of modern technologies for their loyal consumers. For example Apple was one who introduced retina display and now web designers should be making the websites so as to entertain the devices that support retina display. You should be designing the website that is supported by all the devices that are being used by a modern consumer.
Flash- no more Flash!
The world of flash has end now, with the advent of HTML5 all of us know that there is no need of flash now. Flash has helped the web designers in a number of ways and it has been a successful tool for a number of years but now much more integrative and quality tools are available and HTML5 is one of such successful tools that can take care of everything related to your web design!
Browsing through Mobile Apps
It is also a speedily growing thing that people are browsing the internet using mobile phone applications. Therefore, the web designers are now faced with bigger challenges. If you will be unable to design such a site that is not capable of catering this thing, you will be missing a rapidly growing traffic. It is considered to be one of the most powerful traffic in near future and all the web designers should start follow the modern trends from 2013 so as to get this modern traffic using all the possible modern techniques.
Why should you care?
Designing your website and then bringing it to the top ranking is very important, there are several companies and people that will happily help you in getting these targets but only a few companies know the exact meaning of web designing and the importance of integration of modern things in a website. If you want a properly designed website, never forget to follow the modern techniques that are necessary to make a website attractive for the consumer world of 2013 and onwards!